Interview With Spark Magazine
THE SPECIALTY FLAVOUR:
TIME:
DURATION:
AVAILABLE:
Book now
Sharing your experience online is a great way to broaden the chocolate loving community and introduce our delicious tours to other chocoholics.

Your feedback is very important at Chocoholic Tours because we pride ourselves on providing excellent customer service.
Have you got a question?
When Jessica Gilchrist took over her auntie's chocolate tours business in Melbourne she set about modernising and systemising the entire operation. Little did she realise that this action would not just continue the business' success but also ensure it would survive a serious personal health challenge. Just one year after taking charge Gilchrist, then aged just 25 was diagnosed with cervical cancer which after a series of tests and other treatment led to surgery, from which she recovered. Quite a challenge for a young, new business owner. It was the systems and people she had put in place while well that enabled her business to survive while she was "offline" for treatment and recovery.
Anyone who meets Gilchrist can tell there is much more to this successful businesswoman than meets the eye. Her resume includes modelling, acting and a string of television advertisements. And it's that acting career that allowed Gilchrist to hit on a rare but very good idea, the use of actors in business. Examples of actors in business include John Cleese of Fawlty Towers fame who made a most entertaining and informative series of business training videos in the 1970s. Allianz, the German insurance giant, used actors to simulate difficult employees in top executive assessment centres. Actors are also used in presentation coaching, especially media training for government and business.
A little about Chocolate Tours: Chocoholic Tours is a premium walking experience designed to showcase Melbourne's lanes, arcades and all of the city's cultural hot spots. The tours are all inclusive small groups with a maximum of 12 people which allows the opportunity to connect and share the local experience. Chocoholic Tours was started in 1995 by Suzie Wharton. Her father was a closet chocoholic who introduced Suzie to the delights and health benefits of chocolate. He was known to never share his spoils but would occasionally let Suzie sample the wonders of a dark chocolate almond. Suzie studied nursing and then went on to study events and marketing. It was during work experience at the Melbourne Convention and Marketing Bureau, at a brainstorming session that her passion for the sweet side of life surfaced. In order to help Melbourne promote itself as the food capital of Australia, she suggested doing a chocolate and desserts walking tour.
The Just Desserts Tour was born. Suzie soon realised that chocolate was her passion and it was shared by the bulk of her followers. In order to continue to expand her chocolate knowledge she travelled to chocolate companies such as Haigh's (Adelaide), Cadbury's (UK), Terry's (UK), Neuhaus (Belgium), Milka (Austria), Lindt (Switzerland) and Felchlin (Switzerland). She has also been to cacao plantations in Mossman (FNQ), Brazil and Hawaii. In 2015, Suzie handed over to her niece, Jessica Gilchrist (also known as her chocolate daughter) to keep the passion of chocolate alive. Gilchrist has also grown up around chocolate with Suzie showing her its secrets, she comes from an event management background and is a fun, charismatic and motivated person that has spent her entire life surrounded by an entrepreneurial family.
The company now offers a wide range of tours and attracts local, interstate and international visitors including: Melbourne Chocolate Lanes and Arcades Tours, Queen Vic Market, Donut And Chocolate Lovers Tours, and Private Group Chocolate Tours. More recently Gilchrist has added Yarra valley Chocolate and Wine Tours, and Sunrise Balloon Flights and Chocolate. There are also School Group Chocolate Tours. The business has received a Lord Mayor's commendation and a Trip Advisor certificate of excellence.
Spark Magazine discovered on one of the walking tours that, yes, it is about eating a fine selection of the best chocolates, but much more than that it is about the history and business of chocolate as well as the city of Melbourne itself. The sorts of things customers learn on the tour, apart from meeting other interesting "walkers" include: the types of chocolate; how chocolate is grown, harvested and processed; where chocolate is best grown, including the location of the only chocolate plantation in Australia; the history of chocolate making in Australia; the European roots of chocolate makers here, and the interesting relationship between some of them (who talk who chocolate making in return for being taught English?); the best spots for chocolate in the Melbourne CBD; how to choose and eat chocolate and much more.
A surprising aspect of the tour is exclusive access and treatment at the key chocolate house. Customers on the tours find themselves in private rooms, secret hidden cellars beneath famous restaurants and with a personal audience with chocolate makers. The real bonus on the tours is the equality of the guides and the information they impart, not just about chocolate, but Melbourne and its people too. Most fascinating is the international Italian (Milan) history and connection of the CBD's most beautiful and famous arcade – The Block Arcade running between Collins and Elizabeth Streets, the ladies who used to "walk the block" outside in their "Sunday best" in the early 1800s, and the "always has a queue" tea rooms at the front.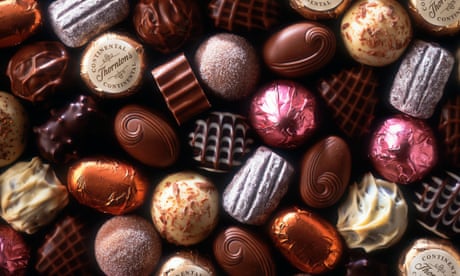 The stories are where the actors come in. Gilchrist hires almost exclusively actors as guides. "Actors are very good at learning, recalling and sticking to a script, as well as telling a story with passion in an interesting way," says Gilchrist. Perhaps they also appreciate the work and the income before they move to Bafta, Hollywood or other fame. Now there's an idea, maybe John Cleese could add chocolate tours of Melbourne to "Meetings, Bloody Meetings" and "Can You Spare a Moment?"