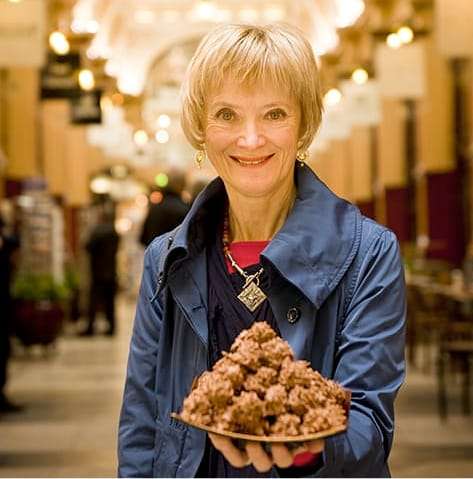 The beginning
Suzie's father was a closet chocoholic who introduced her to the delights and health benefits of chocolate. He was known to never share his spoils but would occasionally let Suzie sample the wonders of a dark chocolate almond. 
As an inquisitive child growing up in Melbourne, she wondered what secrets chocolate really held?  It was during work experience at the Melbourne Convention and Marketing Bureau that Suzie realized the opportunity to combine her joint passions of chocolate and Melbourne. 
In 1995, in order to help Melbourne promote itself as the food capital of Australia, she suggested leading a desserts and chocolate walking tour of Melbourne. 
Suzie created Chocoholic Tours as a premium, small group walking tour experience and it's been an independent, family business ever since.  The goal was to create walking tours of Melbourne that are all inclusive with small groups of people; allowing the opportunity for guests to connect with the local guide, each other and share a local experience.  This is where the Just Desserts Tour was born. 
In order to expand her chocolate knowledge Suzie travelled to visit chocolate makers in the UK, Belgium, Austria and Switzerland.  She also visited cacao plantations in Mossman (Far North Queensland), Brazil and Hawaii. 
In 2001, Suzie launched her book Spoil yourself – a Chocoholic Guide to Melbourne and in 2012 received a Melbourne Lord Mayor's Bronze Commendation Award for her 10 continuous years of promoting Melbourne.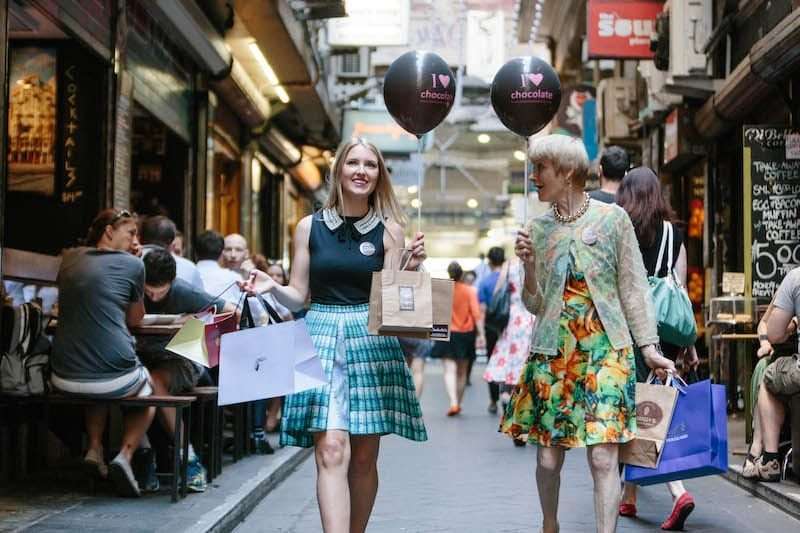 Next steps
In 2014, Suzie's niece (also known as her "chocolate daughter") Jessica Gilchrist joined the Chocoholic Tours team and took over day to day management of the chocolate tours.  In 2015, Suzie chose to retire and ensured her family legacy would continue with Jessica at the helm, keeping her passions for Melbourne and chocolate alive. 
Jessica had also grown up around chocolate with Suzie showing her its secrets.  Her Event Management background and her fun and charismatic personality sparked a new energy into an already successful business.  Since joining the company, Jessica saw Chocoholic Tours achieve the Trip Advisor Certificate of Excellence every year from 2014 – an achievement we're proud to have continued. 
Unfortunately in 2015, 11 months into her Chocoholic Tours journey, Jessica was diagnosed with cervical cancer.  While she has since made a full recovery, it ultimately meant that she was unable to continue running the company. 
And that's where Amanda and Carl come in!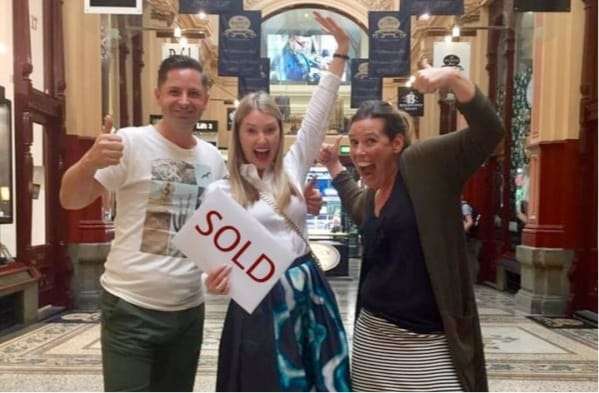 Chocolate evolution
Amanda McKay and husband Carl Whiteside have been looking after the company since 2017 and have continued the reputation of excellent chocolate walking tours of Melbourne that Suzie and Jessica had forged over two decades. 
Carl is an absolute chocoholic so couldn't miss the opportunity to get involved in chocolate walking tours!  His love affair with chocolate starting at 6 weeks old when his Nana fed him a Cadbury Crème Egg and he hasn't looked back!  Carl loves discovering the new chocolateries and dessert bars of Melbourne and working with our partners to devise the best tour experiences we can offer to our guests. 
Amanda had been working for Suzie and Jessica as a Chocolate Walking Tour Guide since 2014 and was happy to step in and take over the business – ensuring it remained in the Chocoholic family. 
In the years Amanda has been leading chocolate walking tours around Melbourne she has loved educating fellow chocoholics about the true value of high quality chocolate and savouring the experiences that we offer on the tours.  Added to that is the opportunity to share the unique history of Melbourne's lanes and arcades. 
Over the years, along with our team of highly experienced, passionate, local chocolate walking tour guides, Amanda has gotten to know the store owners and managers of some of Melbourne's best chocolateries and we love to share their stories with our guests. 
Together, we strive to treat you to the best walking tour Melbourne has to offer.  We hope you will be filled with happiness and knowledge about both the chocolate industry and Melbourne by the time you finish one of our chocolate walking tours.