Melbourne City Sightseeing Private Chocolate Walking Tour
Book now - From $49
This chocolate walking tour has been designed to highlight some of our city's well-known sights and some of Melbourne's best chocolate stores including some exclusively local experiences and some national and international favourites. This walking tour is a great introduction to the fantastic chocolate stores and iconic sights of Melbourne.
Price:
ADULT AUD $49 per person;
CHILD (5-14 yrs old) AUD $49 per person; NB: child portions will apply at some venues
Under 5 FREE.
Meeting point:
St Paul's Cathedral
Please meet on the corner of Flinders St and Swanston St. Your guide will be holding a chocolate walking tours lollypop sign.
Tour summary
A private chocolate walking tour of discovery
Join your local tour guide on a chocolate walking tour of discovery. This city walking tour is perfect for anyone wanting to learn about Melbourne from a local's perspective. Bring out your curious side as we point out some of Melbourne's iconic sights while walking through the magical laneways and arcades; all while squeezing in as much chocolate as we can!
Tour information
What happens on the tour?
Meeting at St Paul's Cathedral, opposite the iconic (and some would say controversial) Federation Square and famous Flinders Street station, you'll join your local tour guide and your band of fellow chocolate lovers. Each tour has a maximum of 20 participants so no need for headsets on this tour!
You'll usually find other locals joining our tours, also eager to uncover some of Melbourne's hidden gems they were previously unaware of.
The tour commences with your local guide spending some time getting to know the group and explaining the itinerary for the afternoon's walking tour. They will also spend a few valuable minutes talking about the correct way to taste chocolate. Yes, there is a right way and a wrong way and once you know how you'll want to tell everyone else! Once armed with this knowledge you're ready to embark upon your chocolate walking tour of Melbourne.
Over the course of up to two hours we will walk about two kilometres (1.2 miles) and visit five amazing chocolatiers. All our partners offer couverture chocolate (the good stuff!). Some of the stores we visit are international favourites, however most are exclusively Australian and many are unique to Melbourne. They all have their unique tastings and experiences. While the specific partners we visit can vary from time to time we can guarantee amazing chocolates and incredible experiences on every tour.
On the chocolate walking tour we will visit some of Melbourne's most iconic arcades, chatting about the history and sharing some of the fascinating stories they hold. We'll navigate down hidden laneways while your local guide points out some of their favourite haunts for drinks and dinner.
As we arrive at each chocolate store we'll spend some time getting to know the story behind the business and at some we are lucky enough to meet either the owner or the manager of the store (sometimes they are one and the same person!) before we enjoy our specially curated tasting experience.
There is then time to browse the store and take advantage of the exclusive participant discounts on offer before we compare notes on our favourites and continue our discovery. (Please note that all tour visits are pre-planned and there is no expectation to purchase.)
The tour concludes with a lovely sit down tasting experience where we rest those weary taste buds, enjoy a well-earned drink and share our favourite experiences from the afternoon.
Inclusions
Your own personal and very passionate chocoholic guide will share their own local expertise and, of course, Melbourne's finest chocolate secrets
Five chocolate stops
All tastings and drinks
minimum 10 chocolate tastings plus patisserie & coffee
special in store offers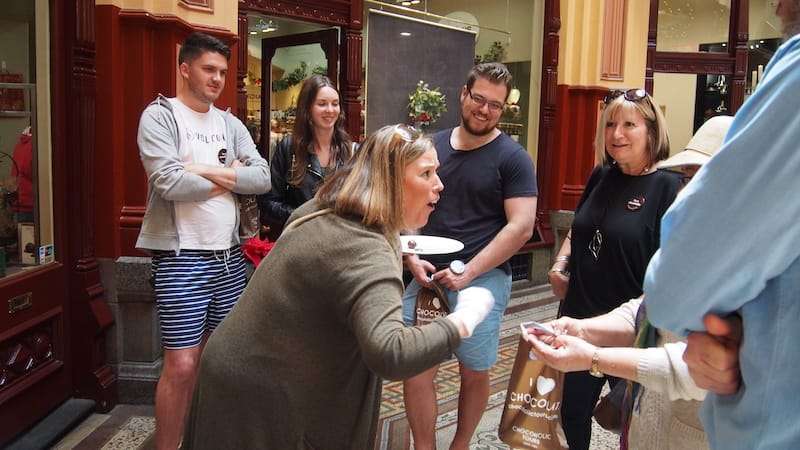 Melbourne City Sightseeing Private Chocolate Walking Tour
2 hours
St Paul's Cathedral
Book now - From $49